Worship:
Worship begins at 10:45 from Labor Day to Memorial Day on Sunday mornings, Summer services are held Memorial Day to Labor Day and start at 10:00 AM. Typical services last about an hour. Most people gather a few minutes early to greet one another, but if you're running late, there's no need to worry as one of our greeters will be happy to help you find a seat.
Our worship service is of a traditional style consistent with the Reformed Tradition. One of the teachings of our tradition is that if something does not have Scriptural justification, then it does not belong in worship. Still, we work hard to take the best of timeless hymns and traditions as well as contemporary music and life applications to ensure that worship is relevant for today's culture.
What to Wear:
On a typical Sunday, you will find a handful of people in suits and ties, a handful of people in jeans, and most people somewhere in-between. That being said, most people in our church desire to give their best to God, so they dress a little nicer than usual to signify that worship is special. Whatever your style, you are invited to come as you you.
Parking:
We have three parking lots available for our guests (see the diagram below). The primary lot is right next to the church with additional parking behind the church at the doctor's office (on Sunday mornings only). We also have a secondary lot that can be accessed via the alleyway on the other side of our neighbor's house. Finally, if there is a need for overflow parking, St. Michael's (former) school allows us to use their lot across the street.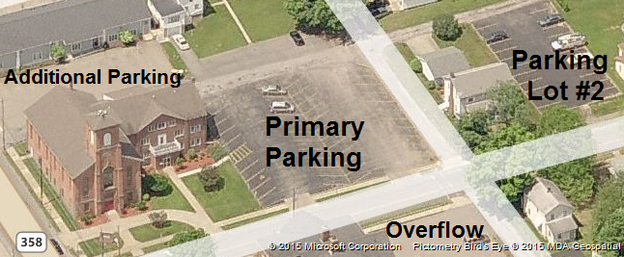 Nursery:
Our nursery is located on the third floor of our education wing and has volunteers ready to receive children from infants through Pre-K from 9:50 – 11:00 on Sunday mornings.
Children in Worship:
Although most churches send children away during worship, every modern study has found that children learn about faith and how to worship God from their parents. So while we have a nursery staffed for younger children, it is our hope that parents will see the wisdom of keeping their children with them during worship. To help parents in this task, we provide our parents with resources that enable us to better help them raise their children with a faith that will last. During worship, however, we have an observation room available in the sanctuary balcony as well as booklets in each pew that will help you explain the different parts of worship to your child. Still, we know some younger children have a difficult time sitting still, so we offer a children in worship program for kindergarten through 2nd grade children which begins just prior to the sermon (the Children in Worship program takes a break in the summer).
Sunday School:
For those seeking to delve even deeper into their faith, we have Sunday morning Bible studies / discussions for all ages from 9:30 – 10:30 (except during the summer between Memorial Day and Labor Day).
Sunday Worship – 10:45 AM

–

2 N. High St. Greenville, PA 16125 – 724-588-4920